One Source Solution for
Fitness Equipment Service & Repairs
FREE Diagnosis for ALL 1st Time Commercial Customers (Ask us how)
(Up to a $139 Value)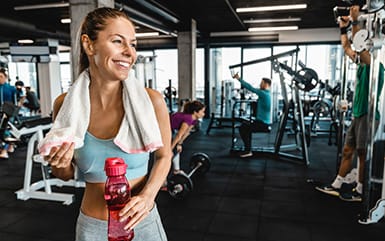 Our Difference:
30 Day Labor Warranty on ALL Service and Repairs
Knowledgeable Staff
Communication at Each Step
Most Responsive Service Company in DFW
Certified, Trained, and Professional Technicians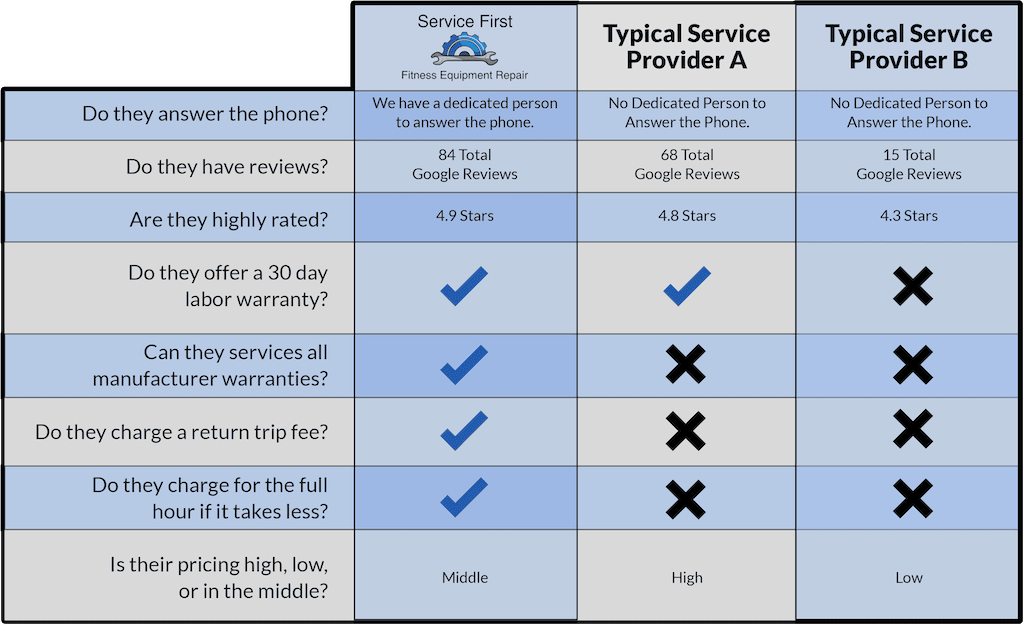 No matter if you're looking for service for your treadmill or recumbent exercise bikes, at Service First, we've got the right service just for you. If you're looking for service and repair for your gym in the Dallas-Fort Worth Metroplex and surrounding areas, we're your top choice. For all of your gym equipment services, choose Service First.
Our passion and dedication for fitness has helped us to become a recognized leader in the fitness service and repair industry. From commercial to home gym equipment, used exercise equipment to brand new, our service can cover it all. We've even been given exclusive rights to represent some of the industry-leading fitness and health equipment manufacturers such as Precor, StairMaster, Life Fitness, and more!
Service First is certified to service fitness equipment which includes popular brands such as True, Cybex, Octane, Star Trac, and much more. Below is a list of just a few of our most popular pieces of exercise equipment we service and repair. Call us today at (817)-386-3021 for more information! Don't forget to ask about our FREE Diagnosis for ALL 1st Time Commercial Customers(Up to a $139 Value).
Popular Exercise Equipment Brands
Precor
Power Plate
Life Fitness
Cybex
Octane
True
FreeMotion
StairMaster
Star Trac
Schwinn
MEET THE TEAM
The Team at Service First is passionate about helping our clients. We are here to help you solve all your fitness equipment issues. Is your treadmill walking belt not moving? Let our team come check to see what's up. We will get you scheduled quickly; diagnose the problem efficiently and effectively. Our office team will quickly email you a quote and order the parts needed. Then the techs will return ASAP to replace the parts and get your treadmill back running like new! We are here to keep your gym up and running so your clients can get in their best shape yet!
Our team also performs preventative maintenance for all your equipment. One benefit of a preventative maintenance contract you get is having our techs in your facility more often before your equipment has time to breakdown. Our techs are trained to follow all manufacturer guidelines for preventative maintenance, which allows us to help prevent your equipment from breaking down unnecessarily.
Some of our team has been working together for over 20 years, of course we have added to our team as we grow. We work together more like a family unit, even having fun and playing tricks on each other once in a while. Service First is like a family, we all pitch in to get it all done, work longer and harder when we are behind, but always working for you, our customer, who is the reason why we are here in the first place.
HISTORY
Service First was started in 2002 by Lavon Maas as an avenue to provide excellent service in the DFW and surrounding areas. Lavon grew the business to two technicians over the next few years. In 2010, Leah Wheeler purchased the business from Lavon and has run it ever since.
Service First currently has five technicians and is the largest fitness equipment service provider in the DFW area. Our main office is on the southwest side of Fort Worth in Joshua, with a satellite warehouse in Dallas. Our technicians are stationed throughout the metroplex so as to provide better service to our customers. We have technicians in East Texas as well. In our main office, Leah, Deb, and Hoss handle scheduling, ordering parts, and all office functions.
Our go to person for incoming phone calls and scheduling is Deb, she has been with Service First for eight years and has formed a personal relationship with most of our customers. Deb schedules the technicians and ensures a high quality of customer service.
Hoss is the master of all things equipment related. As the former owner of the business and a field technician for over 20 years, he knows the machines inside and out. Hoss manages the technicians and provides technical support over the phone. He also manages equipment quotes and parts needed.
Leah keeps busy as owner of the business, interfacing with customers and vendors. She is the all around hand, talking to customers, out in the field as a technician, working on quotes, ordering parts, and managing the business.
You'll find no better provider for service anywhere in DFW. All of the team is focused on customer satisfaction and providing excellent service. We couldn't ask for a better bunch.