Submit A Ticket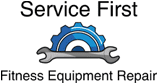 Contact us at [email protected]
817-386-3021 office
817-295-5249 fax
817-648-4710 Leah's Cell
Corporate Office address:
Service First
1409 S. Broadway St, Ste C
Joshua, TX 76058
Open Monday – Friday 7:30am – 4:30pm
Welcome to the Support Center
In order to streamline support requests and better serve you, we need several items directly from your fitness equipment. It is not mandatory, but will help better serve you. For example we might be able to determine the age of the unit and help determine if parts are available ahead of time, saving you time and money.
Our team strives to be readily available, knowledgeable, honest, and excited to help you solve all your fitness service needs. Between all of us we have years of experience and we look for ways to save you time and money on your repairs. Our communication is the best in the industry and we will keep your up to date on your appointments and part tracking to minimize your down time as much as possible.
If possible, please have the manufacturer, model number and serial number; see below on some examples of how to find the serial number. Please also record any error messages your machine may be getting and what you were doing at the time of the error message.
Please provide as much detail as possible so we can best assist you. The more information we have a head of time the better the tech can respond on the day of the first visit.
We typically respond to your inquiry within 1 hour, we are closed on weekends and will respond to all tickets submitted over the weekend on Monday.
Frequently asked Questions?
Where is your serial number?
On treadmills, the serial number is usually in the front of the unit down by where the power cord plugs into the unit. It is usually on a label possibly with a barcode and will look like "ser no. XXX", "serial no. XXX", "S# XXX", or the number is on the barcode.
Ellipticals and Bikes, are usually on the front of the unit down on or by the horizontal stabilizer bar. On lighter weight bikes it may be under the bike. If it's not on the front stabilizer bar, please try the rear stabilizer bar. Some bikes have it on the main from under the seat in the middle section of the bike.
Strength equipment, most strength equipment serial numbers are on the base from near the floor or under the seat
Stepmills/Steppers serial numbers or usually on the rear by where the power cord plugs in or in the back of the stepmill.
Does your machine have no power at all? Things to check before calling us.
Remove your power cord and re-secure it in your machine.
Plug another item into that plug/wall socket to make sure the outlet is working.
Check your unit to see if it has an on/off switch that could have been accidentally turned off with the vacuum or small children.
Check to see if your unit is on an GCFI outlet, most fitness equipment cannot be plugged into this type of outlet and will be required to be moved to another out.
Check to see if your unit is on an extension cord, or surge protector. Cardio equipment does not play well with these items and should be plugged directly into the wall.
Commercial treadmills as well as some higher end home treadmills, in a home environment almost always require an electrician to install a dedicated circuit for these units to run on.
Is it possible your unit has been damaged by a power outage or lightning strike?
Please note if you think this is a possibility, we are going to get your machine back to working in the shortest time possible. Unfortunately, when machines are a victim of power outages that is not normal damage to a unit and could take more than two visits to your facility or home to get your unit back up and running. It is common that we have to diagnose what is not getting power, then we have to order parts and restore power to the unit first before we can fully diagnose the rest of the unit for any additional issues the power outage might have caused.
Diagnostics, Service and Repairs
When you need service call the pros at Service First. Factory authorized and insured our trained technicians will diagnose your problem economically and get you back up and running and in-shape fast! When you call-in to report a breakdown we immediately get to work on scheduling your appointment and preparing for the job with the right tools, manuals and tech support. Once we have the diagnosis, usually the repair requires parts. We will go through our long list of suppliers of quality parts at fair prices. If one doesn't have what you need we move onto the next until we find it. Finally, we come back to install the part and get you running again. Every repair includes a full tune-up by a trained and professional technician. We leave you with a 30 Day Warranty on Craftmanship. If it's not fixed right we do it again. Prices Start At $99 for a Diagnostics Visit (or FREE if you are a first time commercial business customer) and range up for parts installation and other popular services like cable-making, belt and deck replacement, new rollers and drive belts.To get you up and running again call the pros at 817-386-3021 or email us at [email protected]. For fastest service click here to schedule online. Repairs on all makes and all models. Commercial service and maintenance for over 30 years. All work covered by our 30 days warranty. Factory trained professional technicians.
Service First Promises
We can't promise we won't make a mistake, but we can promise we will always make it right.
We promise to hold ourselves, vendors and partners accountable.
We promise to always maintain open and honest communications.
We promise to always make your experience fun and friendly.
We promise to always continue to learn, develop and grow our business, relationships and capabilities, as well as ourselves.